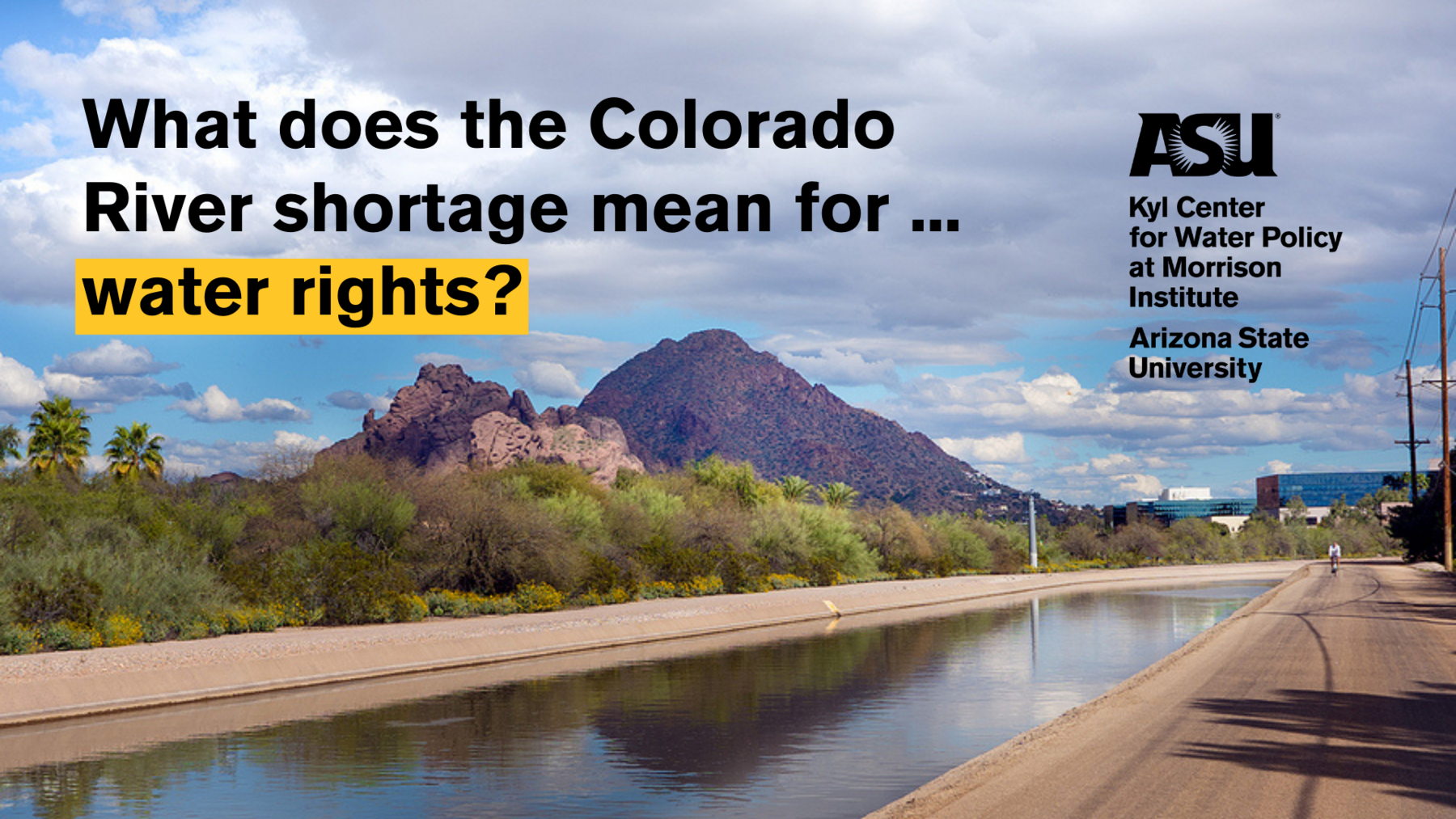 What does the pending Colorado River shortage announcement mean for . . . water rights?
Leading up to the expected Colorado River shortage declaration this month, the Kyl Center for Water Policy at Morrison Institute will be posting information about what the shortage will mean for Arizona communities. This is part seven. The rest of the series is available here.
In the American West, the use of water is controlled by long-standing rights that can't be altered just because water is scarce. This water rights system has given cities, towns, industries and Indian tribes the needed certainty to invest in the infrastructure necessary to treat and deliver water and helps to ensure reliability in times of shortages.
While some would like to "take" water from existing uses and give it to a different use, that's unlikely to happen. Here's why:
The use of Colorado River water is governed by a complex set of agreements, court decrees and federal laws, collectively known as the Law of the River.

Most rights and contracts to use Colorado River water are "in perpetuity," meaning they last forever.

Colorado River water delivered by the Central Arizona Project (CAP) is regulated by a master agreement between the U.S. Secretary of the Interior and the Central Arizona Water Conservation District, a state-created entity that operates the CAP and is responsible for repayment of CAP construction costs to the federal government.

In 1983, the Interior Secretary allocated Colorado River water delivered by the CAP to municipal and industrial water users, Indian tribes and agricultural entities in Central Arizona, which then signed individual contracts with the Central Arizona Water Conservation District and the Interior Secretary for delivery of this water.

While agricultural entities in Central Arizona subsequently gave up their contracts, municipal and industrial users and Indian tribes retain permanent contracts.

The ability to use water from Arizona's in-state streams, such as the Salt River, is similarly regulated under court decrees or state-granted water rights. Arizona follows the doctrine of prior appropriation, often referred to as "first in time, first in right," which allows those with higher priorities to divert water first in times of shortage.

Water rights — whether granted pursuant to a contract, a court decree or a permit from the state — are vested rights, which generally cannot be taken away or diminished without consent of the owner.

However, water managers in Arizona have created innovative, voluntary leases and exchanges that allow them to move water to preferred purposes to create additional value and resiliency, all while respecting our existing water rights structure.
Resources:
A Matter of Priorities