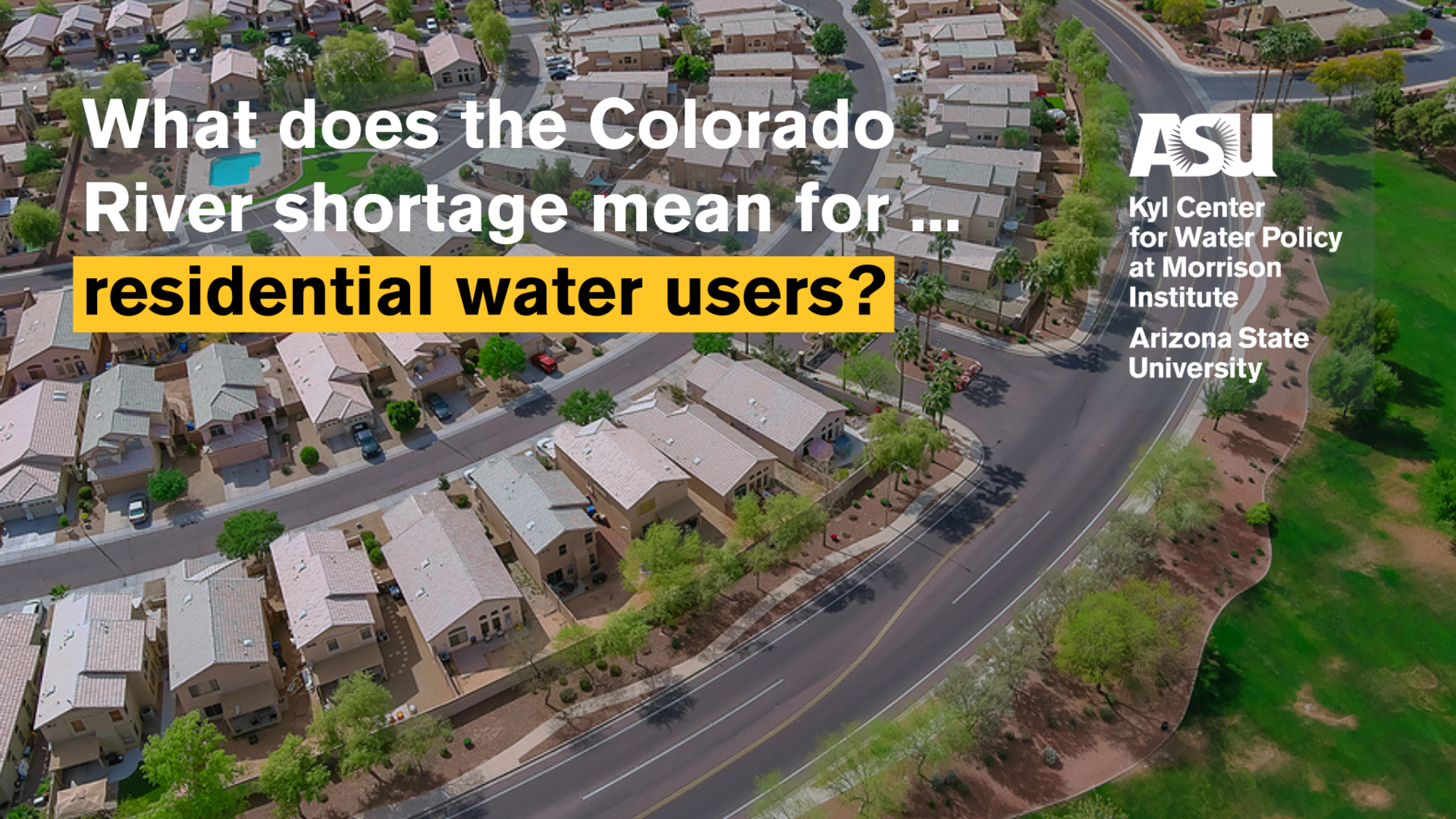 What does the Colorado River shortage mean for ... residential water users?
Leading up to the expected Colorado River shortage declaration in August, the Kyl Center for Water Policy at Morrison Institute will be posting information about what the shortage will mean for Arizona communities. This is part two. The rest of the series is available here.
Most Arizonans' primary relationship to water is when it comes out the tap in their kitchen or rains down on them from their shower. So it's only natural that most Arizonans' primary question about the Colorado River shortage is how it will affect them, personally, as residential water users.
Will the Colorado River shortage impact me?
Probably not this year ...
Nearly all of the impacts in 2022 will fall on farmers in Central Arizona, who gave up their long-term contracts for Colorado River water decades ago in exchange for subsidized water that is first to be cut during a shortage. Farmers will likely turn to groundwater as a replacement source.
But in the next few years ...
The cost of water delivered through the Central Arizona Project will increase and if you live in Central Arizona your water bill may rise.

Your property tax bill may increase if you live in a subdivision that is a member of the Central Arizona Groundwater Replenishment District (also called CAGRD; check your property tax records or the Arizona Water Blueprint) because the district partially relies on Colorado River water to replenish groundwater pumped for its members and may need to acquire more expensive replenishment supplies.

There will be less water available to artificially recharge Central Arizona aquifers, which will exacerbate groundwater depletion.
Hoping for good snowpack is not a valid water management strategy ...
Water providers plan proactively to ensure reliable water deliveries even in shortage. Many water utilities have access to alternative supplies — groundwater, reclaimed water, and Salt and Verde river water, for example — but alternative supplies and the infrastructure necessary to deliver them may be more expensive, and increased costs will be passed on to customers.

Water conservation has been mandatory in Central Arizona since the 1980s, and per-capita water consumption rates have fallen steadily over that time, but if water levels in Lake Mead continue to decline, your water utility may implement stricter requirements.
Check out the links below for more information:

What is the CAGRD? Here are Three Things You Need to Know
The Elusive Concept of an Assured Water Supply: The Role of the CAGRD and Replenishment
Colorado River Shortage Highlights the Importance of Improved Groundwater Management